These are what we consider some of Mauis Best Restaurants and health food stores
There are many, many restaurants on Maui, and we, of course, have not been to all of them.
the restaurants we tend to frequent highlight local and organic produce, offer more healthy, vegetarian, and vegan selections.
Price is also a big deal to us
The fancy ones, like at the big resorts, are amazing, with some really incredible, world reknown food! And perhaps should be checked out, if you can afford it. But for the price it is hard to highly recommend them. (At least for the average person)
If you know of some other restaurants, on Maui, that we should check out, please let us know!
Haiku
Veg Out Café (Pad Thai/Muffalata sandwich)
Kahului
Down to Earth Health Food Store 305 Dairy Road. Sandwiches, salad bars and Hot Foods….
Pinatas for Mexican 395 Dairy Rd
Alive and Well Health Food Store 340 Hana Hwy
Hawaiian Superfoods 74 Lono
Wailuku
Farmacy Health Bar 12 Market st.
Kihei
Hawaiian Moons, Health food Store 2411 S.Kihei Rd.,
Joys place, 1993 S Kihei Rd
Wailea
Monkeypod, Their Happy hour,10 Wailea Ike Dr
Paia
Mana Foods Health Food store 49 Baldwin
Maka, Living Cuisine by Mana foods. 115 Baldwin Ave
Flatbread Pizza, Hana Hwy
Lahaina
Farmers Market store Health Food Store 3636 L. Honoapiilani Rd
Choice Health Bar 1087 Limahana (behind pizza hut)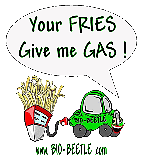 Home| Who we are| Maui Car Rental Policies| Maui Car Rental Prices| Electric Car Rental info| Biodiesel Car Rental info| Our Green Celebrities| Maui Hawaii tips and info| Cat Charity| In the News| Why ECO Friendly| More Links| Email
You're not just renting a car...