Gas Prices don't bother us! Our gas rental cars average 50 mpg!
Lowest Gas Prices in Kahului, Kihei, Lahaina, Maalaea, Paia, Wailuku
With crazy gas prices, changed daily due to the oil war lords, and whatever kind of games they want to play that day, It is good to know that you don't have to be a part of that at all, while on Maui.
You can rent the most fuel efficient gas hybrid available here today, Toyota Prius, and get 45-50 mpg! Other rental car companies cars average 15-20 mpg!
Or you can go even further and rent a car that doesn't even use gas!
Rent an electric EV car that doesnt need fuel at all! Just plug it in to charge! Zero emmissions!
We also offer Biodiesel cars, Volkswagon Jettas, and Beetles for rent. Biodiesel cars are regular cars that run on vegetable oil! These cars average 35-40 mpg, on vegetable oil!
Biodiesel rarely changes price on Maui, and is SO much better for the planet and your family!
You're supporting American farmers, doing something about climate change, and so much more
STOP GLOBAL WARMING and climate change! STOP being a pawn to the oil industries … You can do something about it!
Rent one of the most ECO friendly cars available, from Bio-Beetle ECO Rental Cars!!
You'll be glad you did!
BIODIESEL PRICES on Maui
| Calender Time | Maui Price |
| --- | --- |
| Today | $4.33 |
| Yesterday | $4.33 |
| One Week ago | $4.33 |
| One Month ago | $4.33 |
| One Year ago | $4.43 |
---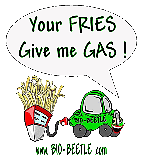 Home| Who we are| Maui Car Rental Policies| Maui Car Rental Prices| Electric Car Rental info| Biodiesel Car Rental info| Our Green Celebrities| Maui Hawaii tips and info| Cat Charity| In the News| Why ECO Friendly| More Links| Email
You're not just renting a car...