Maui Vacation Travel Tips: Bio-Beetle ECO Rental Cars TIPS to you for Exploring Haleakala National Park summet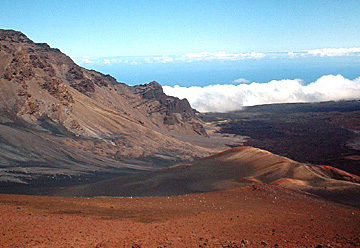 Haleakala is something no one should miss when visiting Maui. How much time is up to you! There are many hiking trails and even camping spots on Haleakala, that one could spend days exploring the volcano.
Check the weather before you go... If Haleakala is clear or partly cloudy the views will be spectacular. but Haleakala can be shrouded in fog. Usually the earlier you get started the better chance you have for clearer weather. If you are traveling from the east, you might plan this early in your trip since you will most likely be on a different time then the island, and you won't mind getting an earlier start.
For a weather forecast on Maui the telephone number is: 808-877-5111.
But keep in mind, The summit of Haleakala is over 10,000 feet and can have much different weather. Sometimes the best way to check for clouds is to look up at the volcano. The temperature at the summit can easily be 30 degrees less then that at sea level. Plan for cold weather. Bring pants, long sleeve jackets, etc.
The general phone number for Haleakala National Park is: 808-572-4400
Always wear good hiking shoes when going on trails, and bring lots of water or other re-hydrating liquid. A lunch or snack is a good idea too. Stay on trails. Going off trails leads to erosion plus harms plants and animals. Do not feed Nenes or any other animals. Habituating animals to humans almost always does more harm to them then good... and can hasten their extinction. Allow at least 2 hours to get to the top of Haleakala driving from Kihei or Lahaina. Remember, Haleakala is over 10,000 feet and the air is thinner, making it more difficult to breath for some. Know your limits and do not over exert yourself. For more on Haleakala itself check their website: www.nps.gov/hale
Click on Map for a larger version.
What to do on Haleakala: If you only can spend a short time at the top of Haleakala, then drive to the very top. This is Pu'u'ula'ula summit, 10,023 feet 3055 meters. There is a small enclosed building to get out of the wind if need be, and for a possible view of Hawaii, the Big Island. The observatories you see nearby are not open to the public.
For more information on these visit this website: www.ifa.hawaii.edu/haleakala/
Drive to the parking lot at the Haleakala visitor center just down the road a short ways from the summit. Get out and check the over look. The colors and craters are incredible. You can also get more information, from the visitor center, about Haleakala, plus there are restrooms near by.
If you are up to it there is a small hill nearby that has a trail for a view from a little higher up. Once you are finished here, you can check into more trails or head down the volcano. There are a couple more overlooks to stop at if you want to see more of the crater, but the visitor center is the main one.
If you can spend more time here, and would like to take a short hike, stop at the Halemau'u Trailhead. One can hike this a relatively short way (30 minutes) for another view of the crater, or continue for hours, but keep in mind you are traveling down hill, and when you turn around you will have to go up!. There are usually some Nene's hanging out here, but remember, do not feed them!
Another great hike into the crater is right near the visitor center, Sliding sands Trail. This is only for people in excellent condition, where as it is somewhat like walking on sand downhill.
Once you turn around it is steep! Combine that with the thinner air of the higher elevation and your heart and lungs will be tested!! Plus your legs might complain a lot if you are out of shape.
There are campsites at Hosmer Grove, plus cabins and camping inside the crater. Check with the Park service for permits and availability.
There are several different outfitters on Maui that offer downhill bike trips on Haleakala. Some people think they are great and so might you. BUT, you will be asked to get up extremely early (around 3 am?? ) if it is for a sunrise trip, and you will be driving up the hill you will be biking down, so you won't be seeing anything different... These trips can be very cold too, and dangerous for some, so just be very aware of what can happen and if it is right for you.
There are horse back rides offered also into Halekala, but we don't recommend them at all. The horses degrade the trails a lot quicker and make it harder on those humans hiking it for themselves. There is also the unpleasentries of having to look out for horse droppings and when stopping for lunch, no one needs to get a whiff of fresh horse manure... If you can't hike it yourself, you don't need to hike into the crater. There are incredible views from the top. We need to protect areas like these, and, honestly, horses are a major problem.
Take nothing but pictures, leave nothing but (small) footprints!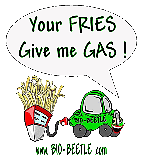 Home| Who we are| Maui Car Rental Policies| Maui Car Rental Prices| Electric Car Rental info| Biodiesel Car Rental info| Our Green Celebrities| Maui Hawaii tips and info| Cat Charity| In the News| Why ECO Friendly| More Links| Email
You're not just renting a car...