Maui has 120 miles of coastline and over 30 miles of beaches making it one of the best beach vacation destinations in the world!
Whether you are looking for snorkeling, wind surfing, or just hanging on the beach, you will find a spot perfect for you, on Maui.
There is great swimming available in front of almost all the resorts in Wailea, Kihei, and Lahaina. So usually you can stick to the beaches closest to your hotel/resort for beach time. These spots are popular of course so if you are looking for a less known spot, when you rent a car from us, let us know and we can point you to the ones we really prefer.
Typical weather for Maui beaches is calm in the morning with winds picking up around noon, so generally the earlier you get to the beach the better!
Great snorkeling is abundant on Maui and usually just dependent on the ocean conditions.
If the beach you are on has black rocky out croppings heading into the water, it most likely has good snorkeling there!
NEVER ever stand on coral or touch it. The coral at all our beaches has degraded markedly over the years due to unwary uncaring visitors.
NEVER ever try to touch or swim after turtles or any ocean life. Harassing wildlife, whether good intentions or not, is illegal and has endangered the future of many species.
Sharks? Yes there are sharks in the waters off Maui, as are in most any warm water area. But getting attacked is extremely rare and unlikely. Most attacks happen at dusk or dawn, or when the water is murky. Or when someone is fishing, and carrying dead or bleeding fish with them. Swimming on surfboards is said also to look like seals from below, which is a favorite food for sharks. Avoid swimming in these conditions or if you cut yourself and are bleeding, and your chances of being hit by a shark are virtually nil.
Remember, THE OCEAN IS THEIR HOME and we are only visitors there.
RESPECT ALL LIFE!
Avoid swimming in any murky water. This happens a lot after heavy rains and flooding. Besides sharks, this water contains runoff, from roads, yards, pastures, and not what you want to swim in...
And don't forget, a lot of locals like spending time at the beaches too, particularly weekends and holidays. We all need a break so expect more crowds at that time.
IMPORTANT note
Winds and currents can be powerful and can change suddenly. Don't push your limits and never swim alone. Heed signs and warnings and listen to lifeguards.
Even though a beach is described as being good for beginners, as having good swimming, or as being calm, this does not mean that the beach is always that way or right for you. Conditions can change without warning. You must use your own best judgment to determine whether a particular beach is appropriate for you and your ability level.
Be aware of rapidly changing conditions and heed all warning signs when visiting Maui's beaches.
And don't assume the lifeguards will see you. Never rely on someone else to take care of you, for doing something perhaps you shouldnt be...
They are there for emergencies, not to babysit.
Always swim with a friend
Never turn your back on the ocean
Watch out for surf, under tow, currents...
Never swim under the influence...
Coral and black rock can cut like a knife! Avoid when waves are strong
Have Fun, stay safe
WEST MAUI BEACHES
Black Rock -- Ka'anapali Beach.
Black Rock Beach is excellent for beginning snorkelers and swimmers to experienced SCUBA divers. Coral and tropical fish are abundant. This is the northernmost section of Ka'anapali Beach. A beach walk winds through Ka'anapali with easy access to beach front hotels, shopping and restaurants.
D. T. Fleming Beach Park -- Kapalua
A great west Maui beach. A long-time favorite for body and board surfing, this public park also features good swimming. Facilities include picnic tables and restrooms. Lifeguards sometimes on duty.
Ka'anapali Beach -- Ka'anapali Resort
West Maui's most well known beach. Three miles of white sand; sailboat and catamaran rides and rentals; surf and windsurf lessons. Easy walking access from all Ka'anapali hotels. Usually lots of people...
Kapalua Beach -- Kapalua Resort
AKA Old Fleming Beach, Kapalua is a great Maui's beach. A truly beautiful tropical beach which offers swimming, snorkeling and SCUBA diving.
Launiupoko Beach Park -- South of Lahaina
Another local favorite with a unique natural pool surrounded by a lava rock wall. Excellent for small children; picnic tables and restrooms.
Napli Bay -- South of Kapalua
Napili Bay is noted for its sandy beaches and good swimming. AUsually an excellent snorkeling spot for all.
Puamana Beach County Park – Lahaina
This beach provides swimming, picnic tables, restrooms, grills and a grassy park. Waves are excellent for beginning and intermediate surfers.
Wahikuli State Park – Lahaina
Another local favorite with calm water conditions for swimming, snorkeling and boogie boarding. Restrooms, picnic tables and grills are available.
SOUTH MAUI BEACHES
Be aware of rapidly changing conditions and heed all warning signs when visiting Maui's beaches.
Kama'ole Beach Parks I, II and III – Kihei
Ample parking, lifeguards, volleyball courts and excellent swimming conditions make the Kamaole Parks local favorites.
Kihei Beach – Kihei
A series of beaches, coves and tide pools along over six-miles Kihei coastline. Some areas offer lifeguards, restrooms, and picnic facilities.
Mai Poina 'Oe Ia'u Beach Park – Kihei
Excellent swimming kite-surfing, and windsurfing. Facilities include picnic tables, showers and restrooms. Wintertime whale sightings are almost guaranteed.
Makena Beach State Park
– Makena Big Beach at Makena is one of Maui's favorite beaches with a long expanse of white sand, and usually hard hitting breakers, so not for everyone. Picnic facilities and restrooms are available.
The adjacent Little Beach (hidden around a rocky corner) is an informal (and nominally illegal) clothing optional beach with excellent body surfing. This beach is always crowded, with both beach goers and gawkers.
Maluaka Beach – Makena
This beach, adjacent to the old Maui Prince Hotel, offers excellent swimming and snorkeling.
Mokapu Beach Park – Wailea
Excellent swimming and snorkeling. Water sports equipment rentals are available at concessions in front of the Renaissance Wailea Beach Resort.
Polo Beach – Wailea
Popular with Maui residents and visitors. Excellent swimming and snorkeling, picnic tables and restrooms are available.
Sugar Beach – Kihei
A long expanse of sand between Maalaea and Kihei along North Kihei road. Great for long walks, and swimming. But not a good spot after rains due to run off.
Ulua Beach Park -- Wailea
Another local favorite with excellent swimming and snorkeling.
Wailea Beach – Wailea
A very popular beach with excellent swimming and restrooms and equipment rentals. Along with most other Wailea beaches, a pleasant walk near hotels, restaurants and shops.
CENTRAL MAUI BEACHES
Kanaha Beach Park – Kahului
Even if you dont swim here you can usually see some amazing wind surfers in action! Plus it's right next to the OGG Kahului Airport!
Famous the world over for its excellent windsurfing conditions, Kanaha also offers good swimming and diving. Close to town, this beach is a popular spot for lunch and local volleyball enthusiasts. Lifeguards, restrooms, showers and picnic tables.
Waihe'e Beach -- Waihe'e
This beach is narrow and relatively free of crowds. It faces east and is a popular surfing spot.
North and EAST MAUI BEACHES
H. A. Baldwin Beach Park – Paia
A great Maui beach on the Paia side of the island with excellent swimming and bodysurfing. Lifeguards, restrooms and picnic facilities. It is one of the few beaches on this side of the island so is usually crowded, and a lot of locals.
There is also a "baby beach" with a lagoon on the Sprecklesville end of Baldwin Beach. Great for small kids and others who are afraid of waves and the ocean.
Ho'okipa Beach Park -- Pa'ia
A world-famous venue for professional windsurfing and board surfing. Many contests are held at Ho'okipa. Winter surf can be massive, with excellent and safe viewing and photography. Picnic tables and restrooms are available. Stop and See this spot! Watch the pros! DO not swim here. This is for the pros only
Hamoa Beach – Hana
Author James Michener called Hamoa Beach the most beautiful in the Pacific. Swimming and bodysurfing is great here but often has strong breakers. Showers and limited facilities are available here. One must descend a long flight of sandy steps to reach this beach, so might not be for all people... Stop at the over look to get a nice photo of the beach if swimming here isn't for you.
Hana Beach Park – Hana
Hana Beach Park has a very nice swimming beache. A favorite with local families. Many local community events are held here.
Red Sand Beach – Hana
A beautiful beach to SEE with volcanic red sand and sometimes swimming and snorkeling for the more advanced, since waves are often breaking hard. STOP and SEE this beach, If only for a minute. There is also a hidden red sand beach, listed in some of the guidebooks, but you do need to cross private property to get there.
Wai'anapanapa State Park – Hana
One of our favorite places on the island. Excellent camping facilities, as well as cabins, picnic areas, blow hole, and wonderful views make Wai'anapanapa State Park one of Maui's best destinations. Swimming and snorkeling is available at the black-sand beach but currents can be very strong, and waves can be painful. There are also a couple cold freshwater pools in caves for the adventurous to explore. Spend all day here if you want! Or at least walk by the caves and overlook the black sand beach and lava. Great place for a picnic.
Leave nothing but footprints... Take only memories .... and pictures
Second thought, LEAVE IT BETTER THAN YOU FOUND IT.... Remove any liter you see...
Did you get your rental car reserved yet from Bio-Beetle ECO Rental Cars?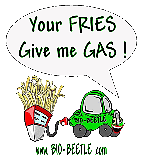 Home| Who we are| Maui Car Rental Policies| Maui Car Rental Prices| Electric Car Rental info| Biodiesel Car Rental info| Our Green Celebrities| Maui Hawaii tips and info| Cat Charity| In the News| Why ECO Friendly| More Links| Email
You're not just renting a car...